Our History
Shaun began his career in cabinet making back in 1984 when he left school and attended a college course in Ely, Cambridgeshire. After a period of 2 years he then took up an apprenticeship with Harvey Jones Kitchens of Cambridgeshire. Shaun moved up to Yorkshire in 1988 where he continued his professional development with a cabinet making firm in Wilsden near Bingley. Today he partners Craig at Manor Cabinet Makers.

Craig's journey into cabinet making began in 1993 when he left school and attended a course in carpentry and joinery at Bradford and Ilkley College. Following this, he took up an apprenticeship position under Shaun at Wilsden.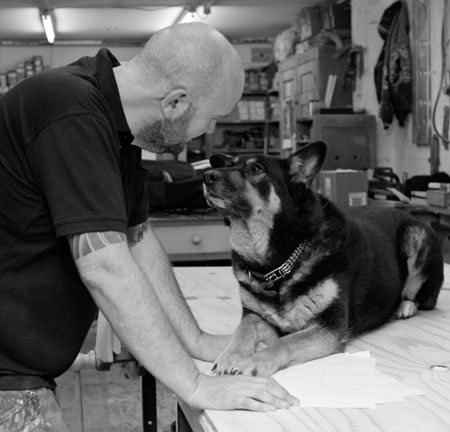 Testimonial
I have chosen Manor for many of my home projects as I have always found them to be very professional in their approach to the design, realization and after care of my requirements. From the outset, Shaun and Craig will spend a good deal of time in discussion with me about my ideas and visions for each project and will incorporate these into their design plans. These plans are then discussed with me and any alterations I may require can be considered and included. Shaun and Craig are extremely thorough in the design and planning stage so that I have full confidence before the hand crafting stage begins.
During the hand crafting stage, I am kept informed of their progress and I am welcome to call in at the workshop at any time to see the project in its crafting stage. This is particularly reassuring when projects are lengthy and complex and I have always had complete confidence that my ideas and input are of the utmost importance.
During the installation stages, Manor are always prompt, courteous, tidy and careful to minimise disruption and they ensure everything is to my total satisfaction at the completion of installation. I am always confident that I can call at anytime regarding after care.
Manor have undertaken several projects for my friends and business acquaintances upon my personal recommendations.
Simon Hatton
Testimonial
Working with Shaun and his team always guarantees a perfect end result. The creative process requires input and real attention to detail. Added to that, Shaun's integrity and professionalism ensures that Manor Cabinets are the only choice for all our bespoke furniture making.
Jane Hernon
Designing Director
Jane Hernon Interior Design
West Yorkshire
Testimonial
My clients demand the best and that is what I achieve when working together with Manor Cabinets. From bespoke one off pieces to complete kitchen crafting, I trust Shaun and Craig implicitly. I have no hesitation in recommending them.
Gary Faulkner
Owner of Home and Garden
Harrogate